Revision Date: 01/27/2023
1. IDENTIFICATION
Name: Thorium Chloride
Synonyms: Thorium Tetrachloride, Tetrachlorothorium
CAS RN: [10026-89-1]
EC number: 233-056-1
Supplier
IBI Labs
3495 N. Dixie Hwy. Unit # 8
Boca Raton, FL 33431
Tel: 561-826-0061 Fax: 561-892-8450
Emergency Telephone Numbers
INFOTRAC
USA & Canada contact number: 1-800-535-5053
International contact number: 1-352-323-3500
2. HAZARDS IDENTIFICATION
Classification of The Substance or Mixture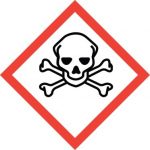 GHS06 Skull and crossbones
H301 Toxic if swallowed.
H331 Toxic if inhaled.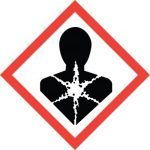 GHS08 Health hazard
H373 May cause damage to organs through prolonged or repeated exposure.
Classification according to Directive 67/548/EEC or Directive 1999/45/EC:
Very toxic
Very toxic by inhalation and if swallowed.
Danger of cumulative effects.
Information concerning hazards for human and environment: Not Applicable.
Label Elements
Labelling according to EU guidelines: The product has been classified and marked in accordance with directives on hazardous materials.
Code letter and hazard designation of product: Very toxic
Risk phrases:
Very toxic by inhalation and if swallowed.

Danger of cumulative effects.
Safety phrases:
Keep away from living quarters.

Keep container in a well-ventilated place.

When using do not eat, drink, or smoke.

Wear suitable protective clothing.
Classification System
NFPA ratings (scale 0 – 4):
4
0
0
Health = 4
Fire = 0
Reactivity = 0
HMIS-ratings (scale 0 – 4):
HEALTH
FIRE
REACTIVITY
4
0
0
Health = 4
Fire = 0
Reactivity = 0
Other Hazards
Results of PBT and vPvB assessment:
PBT- Not Applicable.
vPvB- Not Applicable.
3. COMPOSITION AND INFORMATION ON INGREDIENTS, PHYSICAL AND CHEMICAL PROPERTIES
Chemical characterization: Substances
Appearance: Colorless, or grey-white crystalline
Molecular Formula: Cl4Th
Molecular Weight: 373.849
Odor: Acetone-like
Solubility: Soluble in water and alcohol
Density, g/cm³: 4.59 g/cm³
Melting Point, °C: 770°C
Boiling Point, °C: 921°C.
4. FIRST AID MEASURES
General information:
Seek medical attention immediately.
Immediately remove any clothing soiled by the product.
Remove breathing apparatus only after contaminated clothing have been completely removed.
In case of irregular breathing or respiratory arrest, provide artificial respiration.
After inhalation:
Supply fresh air or oxygen.
In case of unconsciousness, place patient stably inside position for transportation.
After skin contact:  Immediately wash with water and soap, and rinse thoroughly.
After eye contact: Rinse opened eye for several minutes under running water.
After swallowing: Do not induce vomiting.
5. FIREFIGHTING MEASURES
Extinguishing media:
Suitable extinguishing agents: CO2, extinguishing powder, or water spray.
Fight larger fires with water spray or alcohol resistant foam.
6. ACCIDENTAL RELEASE MEASURES
Personal precautions, protective equipment, and emergency procedures: Not required.
Environmental precautions: Do not allow to enter sewers, surface, or ground water.
Methods and material for containment and cleaning up:
Dispose contaminated material as waste according to item 12.
Ensure adequate ventilation.
7. HANDLING AND STORAGE
Handling
Precautions for safe handling:
Thorough dedusting.
Ensure good ventilation/exhaustion at the workplace.
Open and handle receptacle with care.
Information about protection against explosions and fires: Keep respiratory protective device available.
Storage
Keep receptacle tightly sealed.

Specific end use(s): No further relevant information available.
8. EXPOSURE CONTROLS AND PERSONAL PROTECTION
Control Parameters
Components with limit values that require monitoring at the workplace: Not required.
Additional information: The lists that were valid during the creation were used as basis.
Exposure Controls
Keep away from foodstuffs, beverages, and feed.
Immediately remove all soiled and contaminated clothing.
Wash hands before breaks and at the end of work.
Store protective clothing separately.
Breathing equipment:
In case of brief exposure or low pollution, use respiratory filter device.
In case of intensive or longer exposure, use respiratory protective device that is independent of circulating air.
Protection of hands:
The glove material must be impermeable and resistant to the product, the substance, and the preparation.
Due to missing tests no recommendation to the glove material can be given for the product, the preparation, and the chemical mixture.
Selection of the glove material on consideration of the penetration times, rates of diffusion, and the degradation
Material of gloves: The selection of the suitable gloves does not only depend on the material, but also on further marks of quality and varies from manufacturer to manufacturer.
Penetration time of glove material: The exact break through time must be found out by the manufacturer of the protective gloves and must be observed.
Eye protection: Not required.
9. REACTIVITY
Chemical Stability
Hygroscopic; partially volatile; crystallizes with variable water of crystallization.
Thermal decomposition and conditions to be avoided: No decomposition if used according to specifications.
Possibility of hazardous reactions: No dangerous reactions known.
Hazardous decomposition products: No dangerous decomposition products known.
10. TOXICOLOGICAL INFORMATION
Acute Toxicity
Primary irritant effect:
Skin: No irritant effect.
Eyes: No irritating effect.
Sensitization: No sensitizing effects known.
Additional Toxicological Information
Carcinogenic categories:
IARC (International Agency for Research on Cancer): Substance is not listed.
NTP (National Toxicology Program): Substance is not listed.
11. ECOLOGICAL INFORMATION
General notes:
Water hazard class 2 (Self-assessment): hazardous for water.
Do not allow product to reach ground water, water course, or sewage system.
Danger to drinking water if even small quantities leak into the ground.
12. WASTE TREATMENT METHODS
Recommendations:
Must not be disposed of together with household garbage.
Do not allow product to reach sewage system.
Uncleaned packaging:
Disposal must be made according to official regulations.
Recommended cleansing agent:

Water, if necessary, with cleansing agents.
13. TRANSPORTATION
The U.S. Department of Transportation (D.O.T.) Code of Federal Regulations (49 CFR Parts 100-185), the International Air Transportation Association (IATA), International Civil Aviation Organization (ICAO) and International Maritime Organization (IMDG) are all factored into the classification and transport of material.
Proper Shipping Name:
Hazard Class:
UN/ID Number:                                                         To be determined on a case-by-case basis.
Special Information:
Packing Group:
Classification of substances with multiple hazards must be determined in accordance with the criteria presented in the regulations mentioned above. Due to the various quantities/combinations of materials being shipped at one time, the information above must be determined based on the characteristics of the specific shipment.
14. SAFETY, HEALTH, AND EVIRONMENTAL REGULATIONS AND LEGISLATION SPECIFIC FOR THE SUBSTANCE OR MIXTURE
Sara
Section 355 (extremely hazardous substances): Substance is not listed.
Section 313 (Specific toxic chemical listings): Substance is not listed.
TSCA (Toxic Substances Control Act): Substance is not listed.
Proposition 65
Chemicals known to cause cancer: Substance is not listed.
Chemicals known to cause reproductive toxicity for females: Substance is not listed.
Chemicals known to cause reproductive toxicity for males: Substance is not listed.
Chemicals known to cause developmental toxicity: Substance is not listed.
Carcinogenic Categories
EPA (Environmental Protection Agency): Substance is not listed.
TLV (Threshold Limit Value established by ACGIH): Substance is not listed.
NIOSH-Ca (National Institute for Occupational Safety and Health): Substance is not listed.
OSHA-Ca (Occupational Safety & Health Administration): Substance is not listed.
Product Related Hazard Information
The product has been classified and marked in accordance with directives on hazardous materials.
Hazard symbols: Very toxic
Chemical Safety Assessment
A Chemical Safety Assessment has not been carried out.
This information is based on our present knowledge. However, this shall not constitute a guarantee for any specific product features and shall not establish a legally valid contractual relationship.
Abbreviations and Acronyms
ADR: Accord européen sur le transport des marchandises dangereuses par Route (European Agreement concerning the International Carriage of Dangerous Goods by Road).
IMDG: International Maritime Code for Dangerous Goods.
DOT: US Department of Transportation.
IATA: International Air Transport Association.
ACGIH: American Conference of Governmental Industrial Hygienists.
EINECS: European Inventory of Existing Commercial Chemical Substances.
CAS: Chemical Abstracts Service (division of the American Chemical Society).
NFPA: National Fire Protection Association (USA).
HMIS: Hazardous Materials Identification System (USA).
Further Information
Copyright 2014 IBI Labs. License granted to make unlimited paper copies for internal use only.
IBI Labs expects that recipients of their material are in compliance with 29 CFR 1910.1200(h) which requires employers to provide employees with effective information and training on hazardous chemicals in their work area.
The information and recommendations set forth herein are presented in good faith and believed to be correct as of the revision date. However, recipients of this material should use this information only as a supplement to other information gathered by them and should make independent judgement of the suitability and accuracy of this information. IBI Labs will not be liable for any special, indirect, incidental, or consequential damages, including but not limited to, loss of any kind whatsoever resulting from the use of the information provided in this Safety Data Sheet. IBI Labs expressly includes all warranties, expressed or implied, including warranties of merchantability and fitness for a particular purpose.
This information is furnished without warranty, and any use of the product not in conformance with this Safety Data Sheet, or in combination with any other product or process, is the responsibility of the user.