Uranyl Perchlorate SDS
1. PRODUCT AND COMPANY IDENTIFICATION
IBI Labs
3495 N. Dixie Hwy. Unit 8
Boca Raton, FL 33431
Product Name: Uranyl Perchlorate, Hydrated, Reagent.
Chemical Name & Synonyms: Uranyl Perchlorate, Hydrated, Reagent; OM,RA No
Uranium VI Oxyperchlorate
2. REGISTRY NUMBERS, INVENTORY & PROPERTIES
Formula: UO2 (ClO4)2.6H2O
Formula Weight: 577.08
CAS #: 13093-00-0
Physical Data: Very soluble in water.
Appearance & Odor: Bright yellow crystals, Odorless.
3. REACTIVITY & CONDITIONS TO AVOID
Radioactive oxidizer. Do not use in contact with organic solvents.
Fire Hazards: May cause fire or explosion if heated with organic matter or strong reducing agents.
Health Hazards: Radiation hazard. Toxic if ingested.
Special Precautions: Use rubber gloves and safety glasses (or face shield) while using.
4. FIRST AID
General Advice:
Consult a physician.
Move out of dangerous area.
Inhalation:
If breathed in, move person into fresh air.
If not breathing, give artificial respiration.
Consult a physician.
Skin Contact:
Wash off with soap and plenty of water.
Consult a physician.
Eye Contact: Flush eyes with water as a precaution.
Ingestion:
Never give anything by mouth to an unconscious person.
Rinse mouth with water.
Give water with milk of magnesia and induce vomiting. Get medical attention.
5. SPILLS & LEAKS
Wash up quickly and thoroughly with water.
Minor amounts may be disposed of through sewer system.
Another disposal,

use contract hauler.
6. STABILITY AND REACTIVITY
Reactivity: No Data Available.
Chemical Stability: Stable under recommended storage conditions.
Possibility of Hazardous Reactions: No Data Available.
Conditions to Avoid: No Data Available.
Incompatible Materials: Strong oxidizing agents.
Hazardous Decomposition Products: Other decomposition products – No data available
7. EXPOSURE CONTROLS/PERSONAL PROTECTION
Control Parameters
Components with workplace control parameters:
Component CAS-No. Value Control parameters
13520-83-7 TWA 0.2 mg/m3 USA. ACGIH Threshold Limit Values (TLV)
Remarks Confirmed human carcinogen
TWA 0.05 mg/m3 USA. Occupational Exposure Limits
(OSHA) – Table Z-1 Limits for Air Contaminants TWA 0.05 ppm
USA. OSHA – TABLE Z-1 Limits for Air Contaminants – 1910.1000
STEL 0.6 mg/m3 USA. ACGIH Threshold Limit Values
(TLV)
Confirmed human carcinogen
Exposure Controls
Appropriate engineering controls:
Handle in accordance with good industrial hygiene and safety practice. Wash hands before breaks, and at the end of workday.
Personal protective equipment
Eye/Face Protection:
Face shield and safety glasses.
Use equipment for eye protection tested and approved under appropriate government standards such as NIOSH (US) or EN 166(EU).
Skin Protection:
Handle with gloves.
Gloves must be inspected prior to use.
Use proper glove removal technique (without touching glove's outer surface) to avoid skin contact with this product.
Dispose of contaminated gloves after use in accordance with applicable laws and good laboratory practices.
Wash and dry hands.
Body Protection: Complete suit protecting against chemicals, the type of protective equipment must be selected according to the concentration and amount of the dangerous substance at the specific workplace.
Respiratory Protection: Where risk assessment shows air-purifying respirators are appropriate use a full-face respirator with multipurpose combination (US), or type ABEK (EN 14387) respirator cartridges as a backup to engineering controls.
If the respirator is the sole means of protection, use a full-face supplied air respirator. Use respirators and components tested and approved under appropriate government standards such as NIOSH (US) or CEN (EU).
Control of Environmental Exposure:
Prevent further leakage or spillage if safe to do so.
Do not let product enter drains.
8. TRANSPORTATION
UN number: 2910
Proper Shipping Name: Radioactive material, excepted package-limited quantity of material.
Reportable Quantity (RQ): –
Hazard Class: 7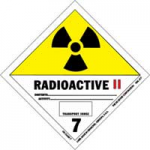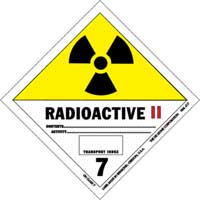 USCG CHRIS Code: RAD
9. FURTHER INFORMATION
The above information is believed to be correct but does not purport to be all inclusive and shall be used only as a guide. The information in this document is based on the present state of our knowledge and is applicable to the product regarding appropriate safety precautions. It does not represent any guarantee of the properties of the product. IBI Labs and its Affiliates shall not be held liable for any damage resulting from handling or from contact with the above product.
Preparation Information
IBI Labs
Product Safety – Americas Region
1-561-826-0061
Revision Date: 07/19/21